The BC Cider Way was founded in 2019 by the BC Farm Crafted Cider Association with the purpose of inspiring people to enjoy BC's unique farm crafted cider straight from the source – and right where the apples are grown. Our aim is to share the stories of individual land-based craft cideries across the province, educate the public on what makes farm-crafted cider so special, and encourage cider lovers (and potential cider lovers) to get out there and try it for themselves!
We hope that the curated cider routes will inspire people to visit the craft cideries near them and explore more of the province with a visit to another craft cider region. Our province is flush with fantastic farm-based cideries, and we have so much to share.
About the BC Cider Association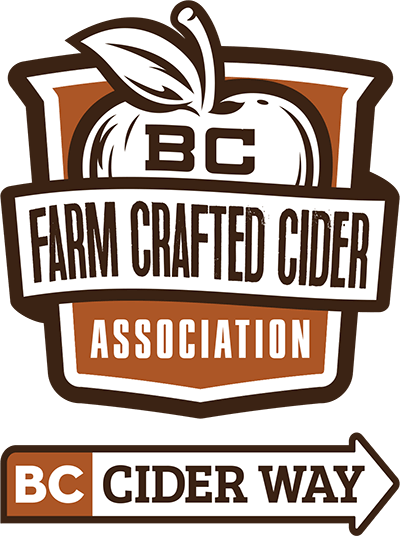 The over two dozen members of this association are all orchardists, cider makers, entrepreneurs, and hardworking folk. The cider that we make is crafted in small batches, using 100% BC apples – most of which we grow ourselves or source locally.
Our mandate is:
to promote cooperation in the production, marketing and development of farm-crafted cider in BC
to assist and educate members in farming and production skills necessary to produce high quality farm-crafted cider
to promote the marketing and responsible consumption of BC farm-crafted cider
to set and maintain high standards of quality in the production of farm-crafted cider
Our members:
are 100% independently and BC-owned
help our audiences understand the cultural, community and economic benefits of BC's growing craft cider industry
unite the voices of craft cideries in BC; so BC's Craft Cider community continues to develop and grow
work with local and provincial government to sustain and improve support for BC craft cideries that create local jobs and boost local economies throughout BC
activate local festivals and community events to showcase our products and support worthwhile local causes
provide engaging destinations and experiences for visitors to our communities
support the use of BC ingredients and sustainable cider making and business practices
What is Farm-Crafted Cider?
There are many definitions of farm-crafted cider, but our association believes that to be classified as craft, a cider must be at least 95% juice content not from concentrate, not diluted with water, made in small batches by artisan cider makers, with a long fermentation period. Farm-crafted cider should be made on the same farm where the apples are grown.
BC Cider Association and Eligibility
Are you a craft cidery looking to join the BCFFA? Businesses that hold a land-based winery license and produce craft cider are eligible to become BC Cider Association members and can apply at any time. If you would like to inquire about becoming a member or applying, please email one of our board members.
2023 Board of Directors: